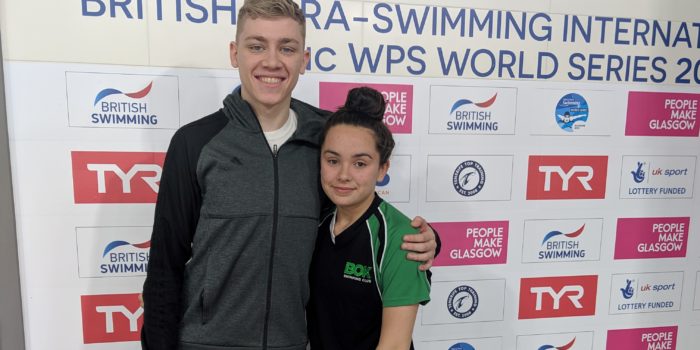 The British Para-Swimming International Meet saw the British Para elite battle it out against the best in the World and BOK are very proud to have had 2 swimmers travel to compete 25-28th April 2019 at Glasgow Tollcross.
Aliya Bacakoglu and Jonathan Booth competed at the British Para-Swimming International Meet 2019 as part of the World Para Swimming World Series in Tollcross International Swimming Centre, Glasgow.
Aliya Bacakoglu competed in-
MC 100 Freestyle, posting a 1:19:87.
MC 200 IM with time of 3:05.31.
MC 100 Breaststroke with a time of 1.33.51.
MC 100 Butterfly with a time of 1.22.67 achieving GB Junior Para Swimming Gold in the Women's MC 100m butterfly
Jonathan Booth competed in-
100 MC Freestyle posting a 1.00.50
400 MC Freestyle posted a 4.31.95 into the final. He then posted a faster time of 4.30.38.
100 MC Backstroke with a 1.10.50 qualifying for the final session in the afternoon. He then swam a 1.10.11 in the final.
100 MC Butterfly posted a 1.06.06 qualifying for finals. In the final Jonathan posted a 1.06.01
Well done to both swimmers representing BOK on the international stage- BOK are very proud.
Results- https://www.britishswimming.org/events-and-tickets/british-para-swimming-international-meet-world-series-2019/bpsim19-start-lists-and-results/
Live feed- https://www.britishswimming.org/events-and-tickets/british-para-swimming-international-meet-world-series-2019/british-para-swimming-international-2019-deep-end-live/